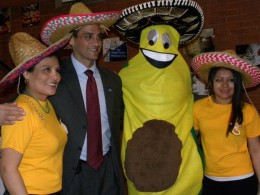 COMMENT BY TUESDAY, APRIL 23 at 2 PM FOR A CHANCE TO WIN TWO TICKETS TO THIS EVENT!!
Just leave your email address in the comments section.
SLF Board Member Sarah Shugars is this week's guest blogger!
The thing I love most about Somerville is its diversity. And what better way to celebrate diversity than by eating lots of food?
Seriously, though. We all know the important role local businesses play in our community – supporting the economy, minimizing impact on the environment and expressing Somerville's fun, funky personality.
Immigrant-owned businesses, and particularly restaurants, play a similar critical role. They are centers of community – gathering places where immigrants can get a taste of home and others can get a taste of something different. They express who we are as a city and the rich, diverse character we all love.
And we all love to eat…yummm.
For the fourth year, SLF member The Welcome Project is hosting a unique opportunity to try tastes from immigrant-owned restaurants across the city. YUM: A Taste of Immigrant City will be held Thursday, April 25 at 7:00 pm at the Center for Arts at the Armory (also an SLF member!). If you're feeling inspired already, you can get your tickets online now!
The event will feature tastes from 11 restaurants, live entertainment, a silent auction and recognition of the work that the East Somerville Community School PTA has done to ensure all parents are able to participate in their child's education.
And yes, there will be a giant puppet of Haitian revolutionary Toussaint Louverture. Why? Because it's not really a Somerville event until someone breaks out a giant puppet.
No, actually because the larger than life Louverture has been engaging local Haitian youth in learning about their country's history through a partnership with The Underground Railway Theater, The Welcome Project, the Haitian Coalition and Books of Hope.
Speaking of which, all proceeds from the event will benefit The Welcome Project, a great non-profit which offers ESOL classes, supports multilingual and multicultural parental engagement in the school system and trains bi-lingual Somerville youth as interpreters. You may have seen some of these impressive young people interpreting at city events.
But…back to the food.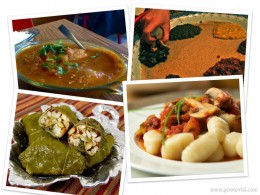 Participating restaurants are:
Aguacate Verde: Mexican | Porter Square
Amelia's Kitchen: Italian | Teele Square
Fasika: Ethiopian | East Somerville
Gauchao: Brazilian | East Somerville
Masala: Indian and Nepali | Teele Square
Istanbul'lu: Turkish | Teele Square
Los Paisanos: Central American | East Somerville
Maya Sol: Mexican | East Somerville
The Neighborhood Restaurant: Portuguese | Union Square
Sabur: Mediterranean | Teele Square
Yak and Yeti: Nepali and Indian | Ball Square
Oh, and if you're wondering, all of these restaurants are part of the City's Shape Up Approved campaign, so you may not even have to hit up any of Somerville's great local gyms afterwards.
See you there!
YUM: A Taste of Immigrant City
Thursday, April 25 at 7:00 pm
Center for Arts at the Armory
Get tickets online now
In addition to working tirelessly to promote SLF, Sarah is also active with YUM: A Taste of Immigrant City and the Welcome Project.
And remember…. comment on this post for the chance to win 2 free tickets to the event!