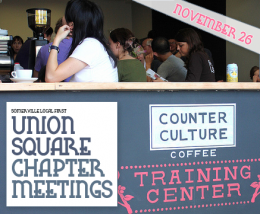 We will get together for our last Luncheon of 2012!
After hearing rave reviews about one of our newest neighbors, Counter Culture will be our host this month.  So many Union Square Businesses regularly attend but this time we want everyone to join us and help make Local Business Owners stronger than ever!
If you know someone who works at a locally owned business in Union Square, please invite them.
Lunch and all other offerings are Free to all attendees and we convene for about 15mins.  After 15mins you can head back to work or if you like, we will have fellow Union Square Business owner, Clara Angelina Diaz of Clara-fying, do a workshop for the group.  All you have to do is come.  Below are the details:
Location - 374 Somerville Avenue [map]
Date - Monday, November 26
Time - 12noon
Workshop from Clara-fying at 12:20
Any questions please contact [email protected]