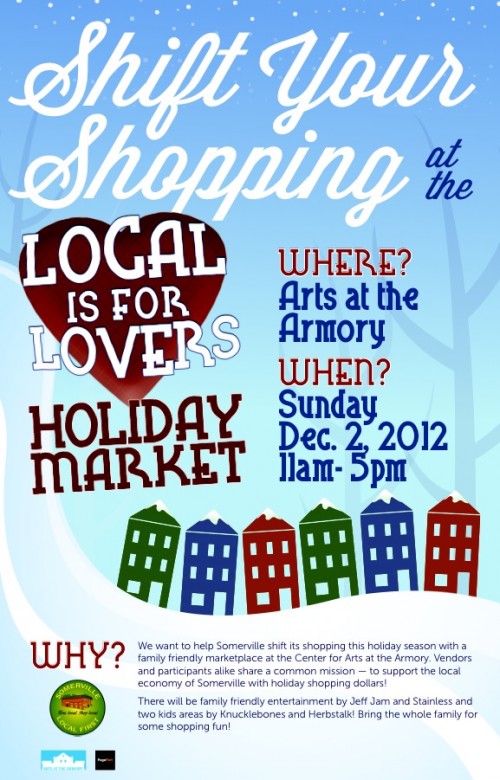 The buzz is really growing about the first SLF/Arts at the Armory Local is for Lovers Holiday Market!
A lot of you have been asking questions about the details of the day, and here they are!
The market will take place at Arts at the Armory, 191 Highland Avenue, from 11am-5pm on December 2. Admission is free!
Get Mobile Website Tips (& more!)
SLF has lined up small business expert Randy Parker to answer any of your mobile & web questions.
Randy will be providing clarity, advice, tips, and resources all day thanks to SLF's partnership with PagePart, a local biz offering mobile & social web solutions.
SLF and Arts at the Armory teamed up this year to emphasize the importance of shifting your shopping to local vendors this holiday season. Keeping your holiday spending in the community has the potential to generate millions of dollars in revenue for the local economy. We are so pleased to have been joined by an AMAZING list of vendors (below), selling gifts sure to please even the hardest to impress on your list this year.
That said, this market is more than just a shopping experience! While we will be featuring local vendors and artisans we have activities for the whole family. Three local youth bands - Burning Honey, The Soulful Souls, and Stainless -  will play throughout the day, and we will have not one but TWO sets from local childrens' musician JEFF JAM!
Don't have those holiday card snapshots done yet? Don't fret, we've got you covered! We will have a winter-themed photo booth set up by photographer Jeremy Heflin and you can buy your prints on the spot!
We also have some areas just for the kids: Knucklebones will be on-site so your little ones can play, and Herbstalk will be hosting a craft area! (Ed note: I heard some paper dandelions will be made. Can't wait!)
Our amazing vendor line-up (+ possibly more!):
Herbstalk
Flowerfolk
Union Press
Caroline Barney Designs
Canis Major
Albertine Press
Cuisine en Locale
City Chicks
Daddy Jones
The Somerville Stock Exchange
Picture Renewal
Next Step Living
Message Therapy by Elizabeth Lynn
McBeth Designs
Louise Musto-Choate
Carland Cartography
DuVine Adventures
Feathers And Fur
Blue Helix Designs
Pink Pigeons Creations
type-o by ceo
I am Joolienn
Qs Nuts
Will Alderfer Metalwork
Star Shine Creations
Spindler Confections
Love on the Blocks
Jai Devi
Ghostfingers
Anna L. Amur Jewelery
Culinary Cruisers
Trinity Imports, LLC
Artichoke Arts and Crafts
Ansis Purins
Mikayla Characters
Sete Productions
Pimmz Art Studio
Alisa Aronson Graphic Design
Tara Faeri
plane paper
Knucklebones
Arts at the Armory
Foret
MJ Paperflight
See you this Sunday!